I'm back from Siggraph, which was a blast (although a bit hot). Met some fun people and it was unreal seeing my film on the big screen. At Siggraph I saw some clips of Sony's Cloudy with a chance of meatballs (in 3d, which I don't find all that exciting) and this looks like it's going to be a really fun movie. I'm really digging some of the animation choices made on this film. For example I find the way Flint walks toward the garbage can on the pier in the 'burger rain' sequence (you might know what I'm talking about, if not you will in a couple of weeks) awesome. It's just a fantastic walk! Anyway, I can't wait to see this film.
Leaving for New Orleans (via New York) in roughly 6 hours. In the meantime you can check out my 'almost'-new reel on the work page
I updated my resume a little bit. I've also updated my reel, but I've yet to upload it. I'm sure it will turn up here in the near future These are all small parts of the great "going-to-siggraph" plan.
Well, it's settled - I'll be going to New Orleans this August to attend Siggraph. Now I just have to decide what to do and when to do it while I'm there. We should definitely grab a beverage of some sort if you are going.
I had this issue the other day where I had at some point deleted the sound that accompanied a clip from a timeline. The quickest way I found was the 'match frame' (shortcut: f) command. Just put your playhead on the start of the clip you want to get the sound back from and hit f. Then the viewer loads with the source clip (not the clip from the timeline) with the appropriate in and out points. Then you can either hit f10 or use your preffered method of inserting thing into your timeline. And there's your clip with sound. I found this extremely useful when I had to recover the sound from around 100 shots. Then I pressed the down arrow key, hit f, f10 and repeat.
Back in the day when I started messing with 3d I was usually planning crazy shorts, and I think this one takes the cake: Ducks at War. I think I only modeled a few assets for it, and If it looks a bit like Band of Brothers it's no accident. Those were the days. (Click for bigger version)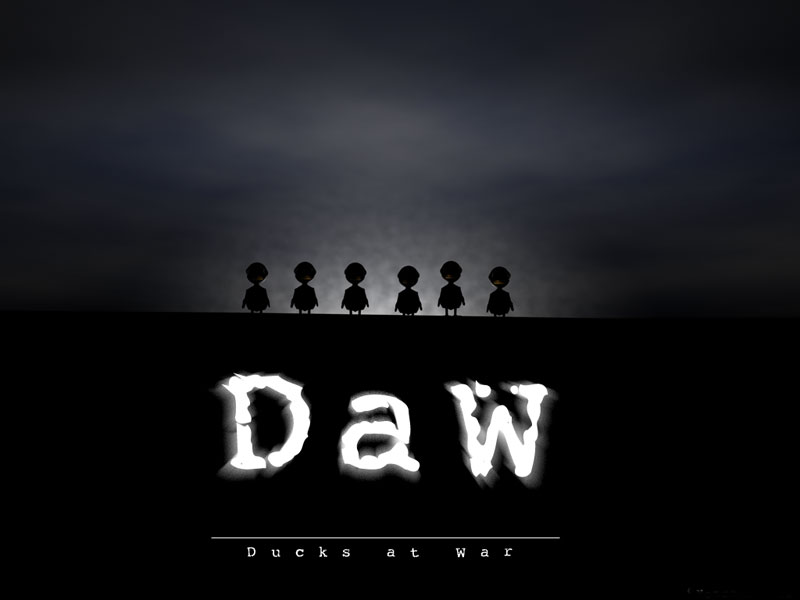 If you haven't seen this already, I got nominated for an award at the siggraph 2009 computer animation festival, in the WTF (Well told fable) category. Official press release So I guess I'll be going to New Orleans in August, or at least trying to.
I found this tip somewhere and thought I'd share this as the first in hopefully several posts of the "post a week 'othon". To replace a layer in a composition with a new item from the project window select the layer to be replaced in the composition window. Press option and drag the item from the project window and drop it on top of the selected layer in the composition window. Simple. This preserves everything you had done to the first layer. So this saves you the hassle from dropping in the new item, copying animation, effects and transforms. I don't know why I didn't know before last week.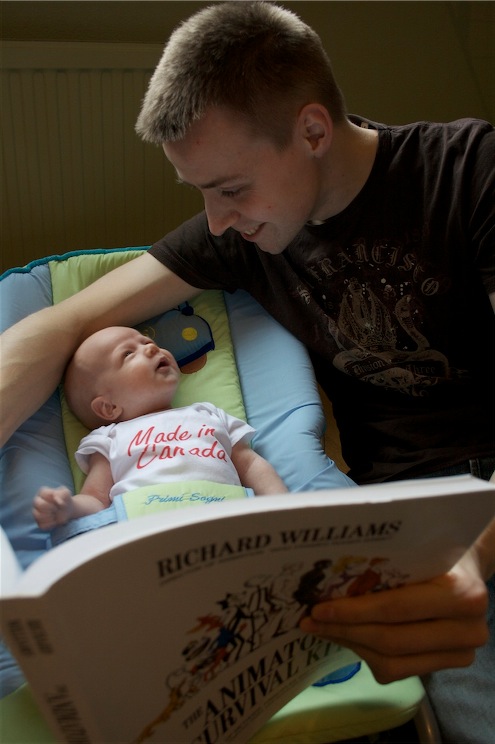 Yup, all the rumors are true, I'm a father now and by the way, it's the best! This awesome boy was born Feb. 25th which makes him almost 10 weeks old. Man, time sure flies when you're having fun (and animating for Framestore here in Iceland (a two week gig on Sherlock Holmes)).